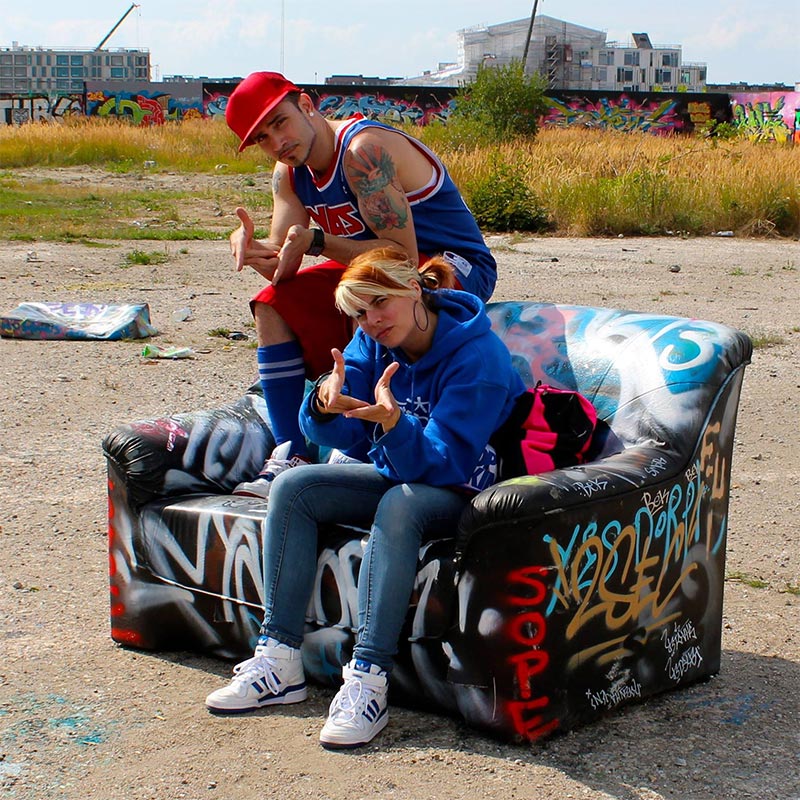 Joel De Andrade & Karen Galsgaard
Joel De Andrade & Karen Galsgaard have roots and are pioneers in the Danish Hip Hop scene. Joel has been dancing since 1989 and Karen since 1998. They won the first Scandinavian Battle Of The Year – the biggest breaking title in Scandinavia at the time.
Their experience ranges from battles, shows and theatre to international judging and workshops as well as organising events, community outreach and charity projects.
They have mentored countless students at Hotstepper and overseas, many of whom have become world-class dancers including solo breaking world champion and dancing for some of the most famous international artists.
Joel and Karen have both been nominated for awards for their contribution to the Danish dance scene.
We are proud to have some of the freshest new talent as well as established world-class dancers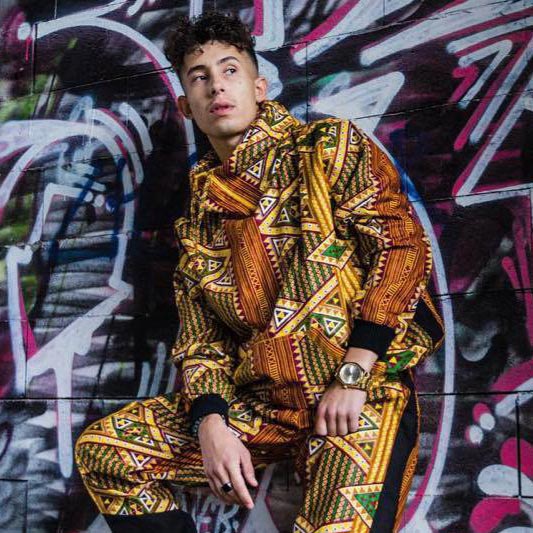 Adam is the first male dancer from Denmark to study dancehall in-depth. He was introduced to Dancehall in DK, has previously been in the Jamaican Rifical Team and has trained intensively in both DK and Jamaica. He has travelled several times to Jamaica to learn and experience the authentic and rich dancehall culture. Adam founded Diversity Skankaz, a dancehall crew working for dancehall in Denmark. He has taught workshops and classes internationally and in DK. In class he aims to spread good energy and that students get the right knowledge. Adam has danced/warmed up for artists like IceKiid, Izzy, Okay Funky, Felicia Baby, Mr. Eazi, BRO and Madam Akothe from Kenya. He has performed in TV and events including ZULU AWARDS, Distortion, AfroBeat Madness and Dancehall Madness.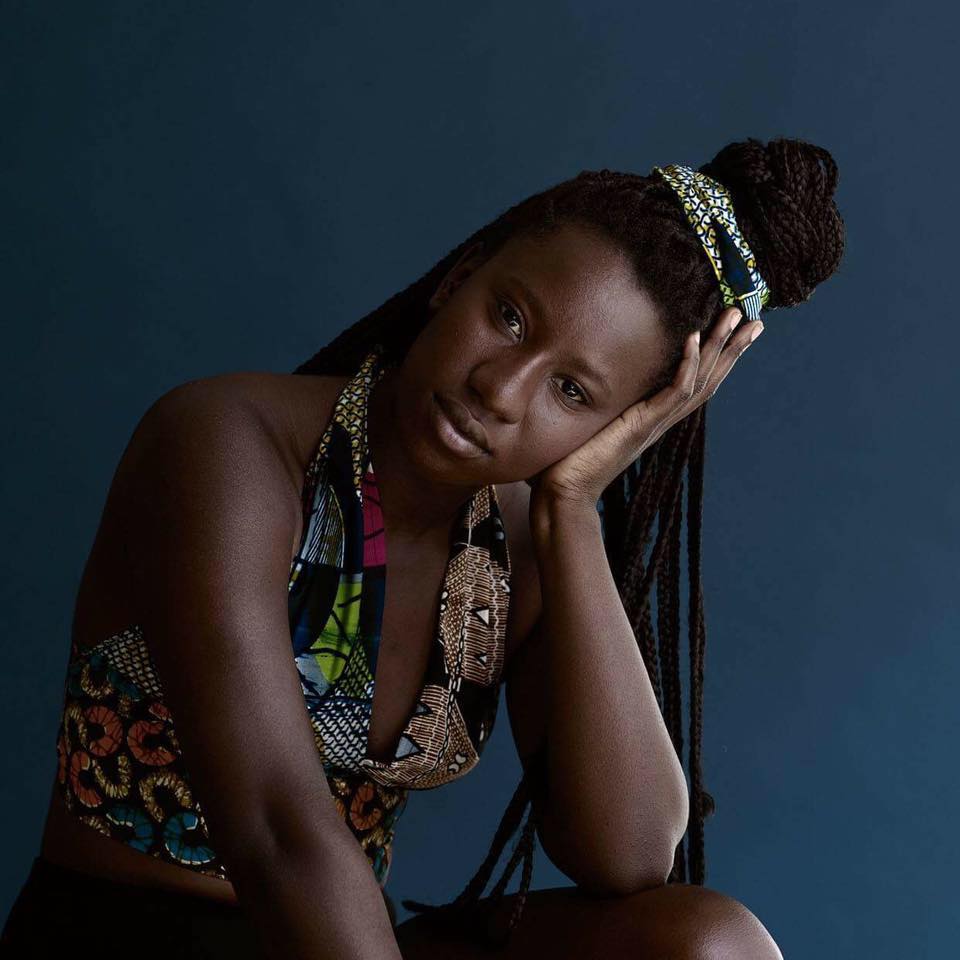 Amy has been dancing hip hop since a young age and grew up with West African culture and dance. She has been active with dancehall for several years, and also participated in workshops within the style. She has respect for both African and Jamaican culture and how these are conveyed in the dance. Amy is part of an Afro/Dancehall crew – Savag3 – and has performed with fusion of Afro and Dancehall at events like Roskilde Festival, Distortion, Dancehall Madness and for afrobeat and dancehall artists from abroad.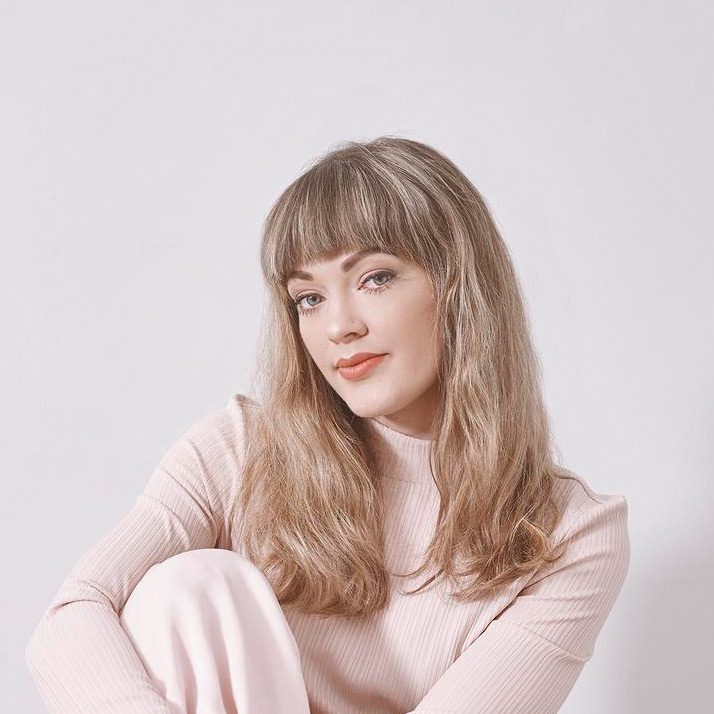 One of DK's leading female hip hop and urban dancers and a graduate from one of the first years of the Hotstepper Dance Education. She has credits like CLASH CPH artistic director, The Nutcracker, judge at World Of Dance (WOD) DK, danced for hip hop legend Big Daddy Kane, performed at Ladies of Hip Hop (USA) and her choreography piece ANTS was selected for the SubUrban Dance Festival. She has won several battles including SDK Baltic, Urban Dance Meeting and Prop Challenge for Hip Hop Games DK 2 years in a row.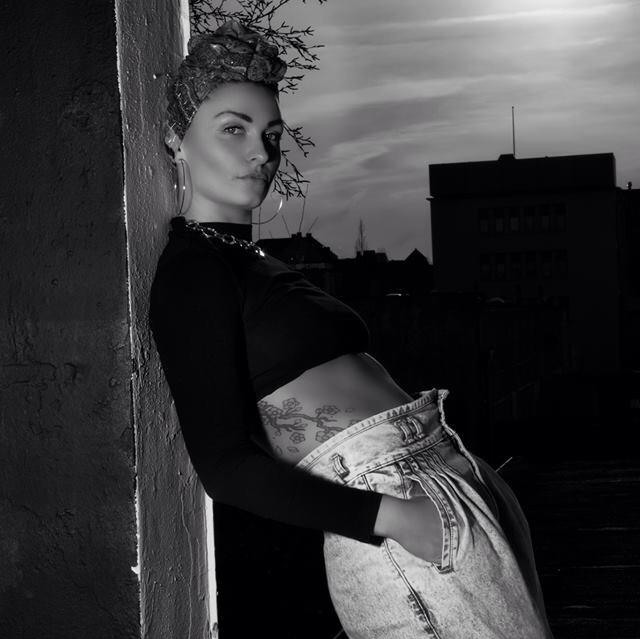 Anna is better known as the Dancehall artist Hotskull, and is a respected dancer and singer who within dancehall has both steps and songs from Jamaica named after her. She has won battles, helped arrange several dancehall events including DK's largest dancehall event – Dancehall Madness. She has danced for Danish artists such as Nik & Jay, David Jay, Pharfar, Kaka, KNA Connected, Annella, Okay Funky and for artists from Jamaica such as Richie Stephens and Chi Chi Ching. Anna has completed the Hotstepper Dance Education and has been to Jamaica several times to dance, train and learn from legendary Jamaican dancers.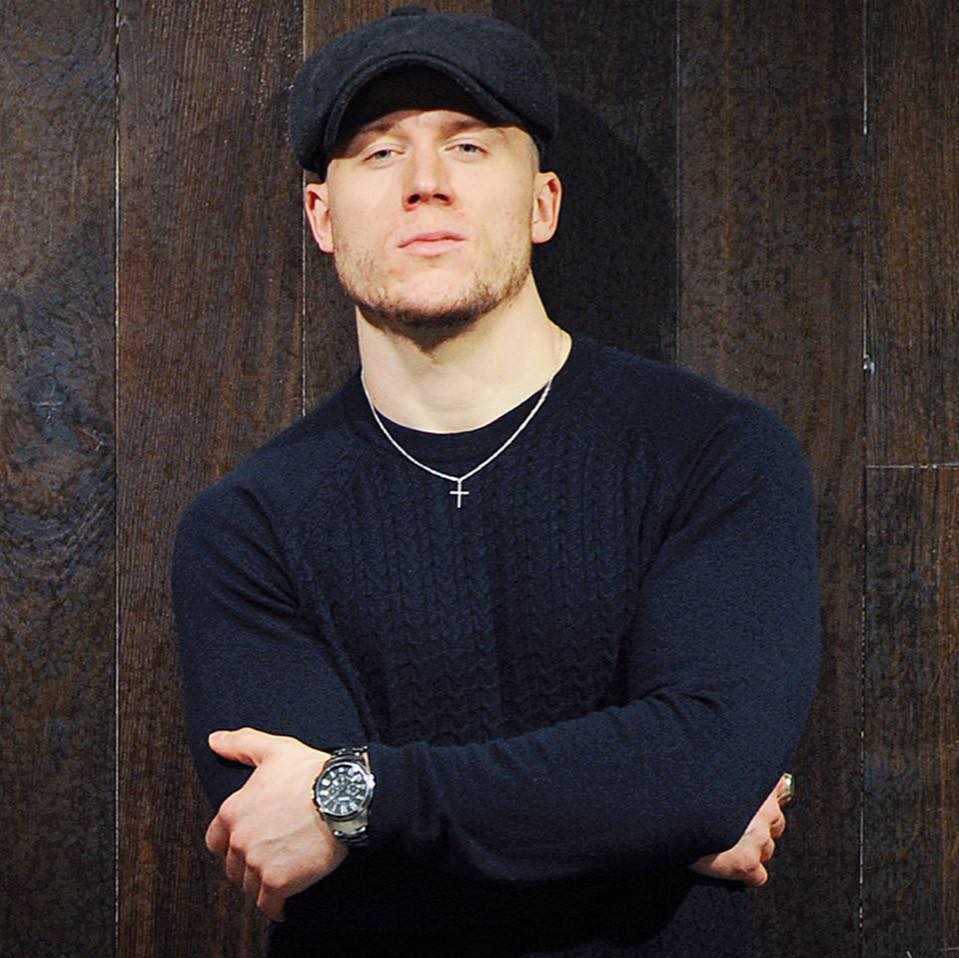 Is a leading commercial dancer that works out of London and has been on several world tours with famous artists. Credits include Justin Bieber, Kylie Minogue, Will.I.Am, Katy Perry, Jason Derulo, Rita Ora, Peter Andre, Little Mix and more.
Artit has been dancing for 10 years and has completed the Hotstepper Dance Education. He has competed at several events and has won UDO, Kaufmann Cup, Hip Hop Unite, and 2nd place at Hip Hop international DK. Artit has also been dancing for Fazli, Top Gunn, OMEE and been assistant choreographer for We Loves The 90's Tour. He has several years teaching experience and has taught in Denmark, Thailand, Belgium, Sweden and Germany. Artit also runs his own dance video project focusing on the dance environment – AC PROJECT.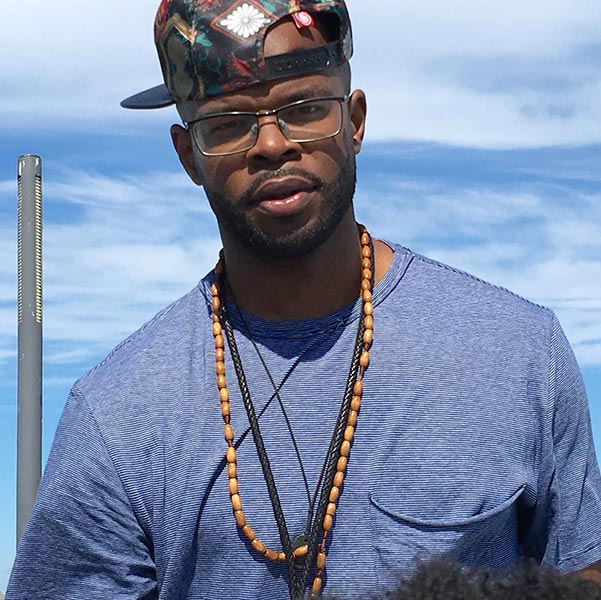 Brice moved to DK from USA and is an experienced dancer specialising in several hip hop styles. He has had a succesful career with credits including the world famous TV show So You Think You Can Dance USA, performing with Madonna and winning some of the world's biggest competitions: Hip Hop International USA, UK Champs, and KOD in China. In DK Brice has danced for Christopher and Danish Music Awards.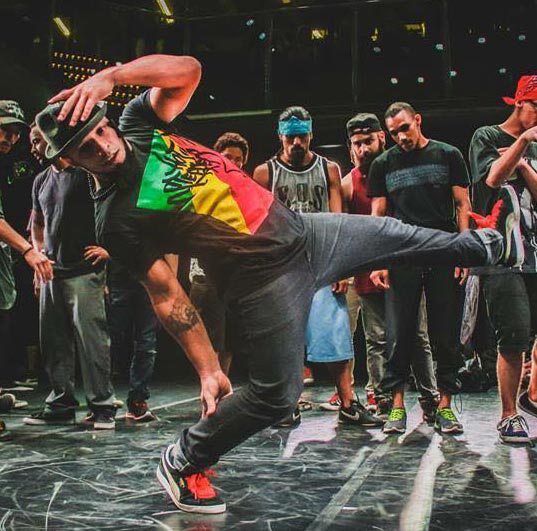 Dancing since 1996. Co-founder of the world famous Tsunami All Stars Crew. Winner of Battle Of The Year Brazil and 3rd place at International R16 – one of the worlds biggest breaking battles. Experience ranges from TV and film to theatre and battles.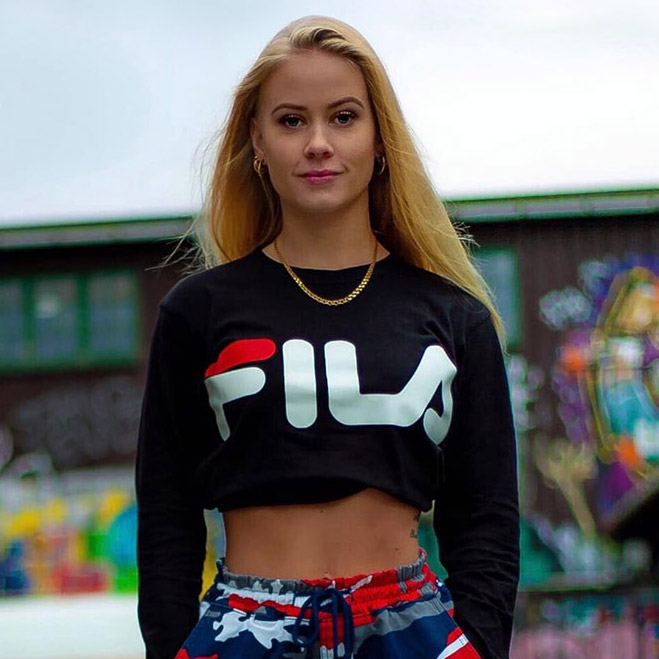 Cathrine from the TREE'O dance group is a former Hotstepper Dance Education graduate, has been travelling extensively to take class and workshops and has also been specially selected to teach at the support program for the world-famous Urban Dance Camp in 2 years in a row. She has choreographed the opening show for Danish Club Awards, Miss Denmark and Heineken Champions League in Tivoli. Other credits include L.O.C., Skinz, The Minds of 99, Kato, The Voice Concert, X-Factor DK, Isas Stepz tour, Microsoft, L'Oreál, Grundfos, Danske Spil and more. Cathrine was active in the traditional dance school competitions; 10 x IDO DK champion and 7 x IDO Dancer of the year.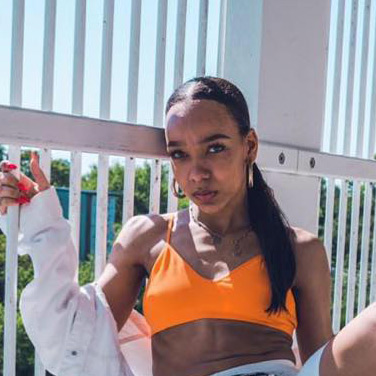 Ciara is a strong is a strong, versatile dancer with star-quality. She has been dancing since a young age and has always had dance dreams. Ciara has learned from many leading dancers in and outside of Denmark, she has 2 dance educations including Hotstepper Dance Education and she has also trained in France and USA. She can freestyle and choreograph getting the essence and feeling of the styles and can deliver high-level performance on stage. Ciara has danced in music videos, TV, concerts, festivals, battles and is becoming a popular dancer in industry. She has credits like Christopher, Karen Mukupa, Boye & Sigvardt X MAGNÜS, Frederik Leopold, Grace Carter, J Wild, Amro, Yakuza, Nick Jones, Jimilian, Gio, Navid, Micheal Williams and Baby Bino as well as TV credits like Guldtuben and TV2 De Største Øjeblikke.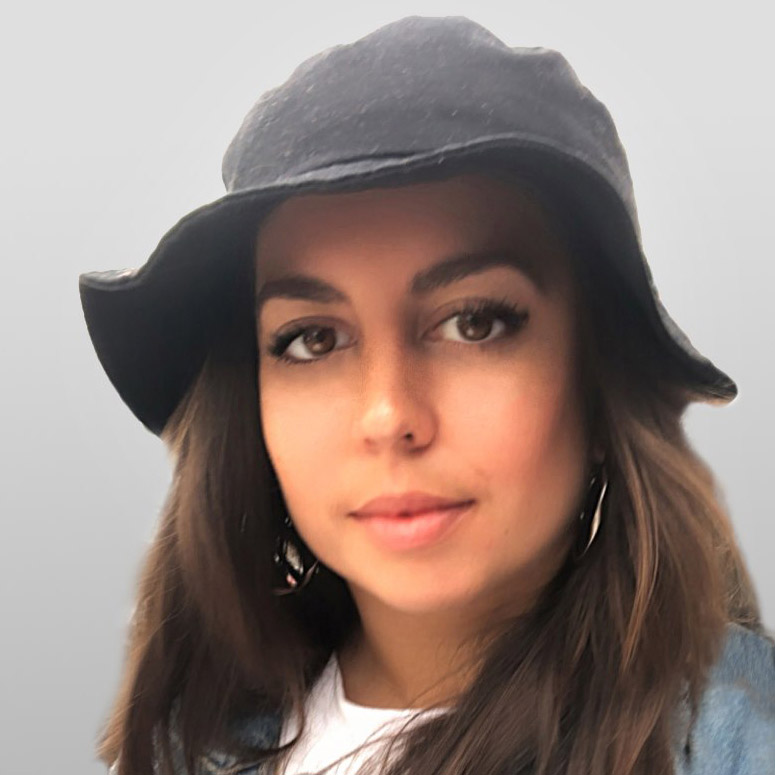 Has been active and successful in the dance industry since a young age with experience ranging from fashion shows to music videos. She has artist credits such as Outlandish, Topgunn, Mund de Carlo, David Jay, Papito, Medina Flashmob, danced in the DR Concert Hall, Bakken, Tivoli, Legoland, for the Zulu Awards, P3 Gold, X-Factor DK, TV2, DR, Universal Music and more. Isabel has also competed in the Danish, European & World Championships, Hip Hop International, Hip Hop Unite and UDO.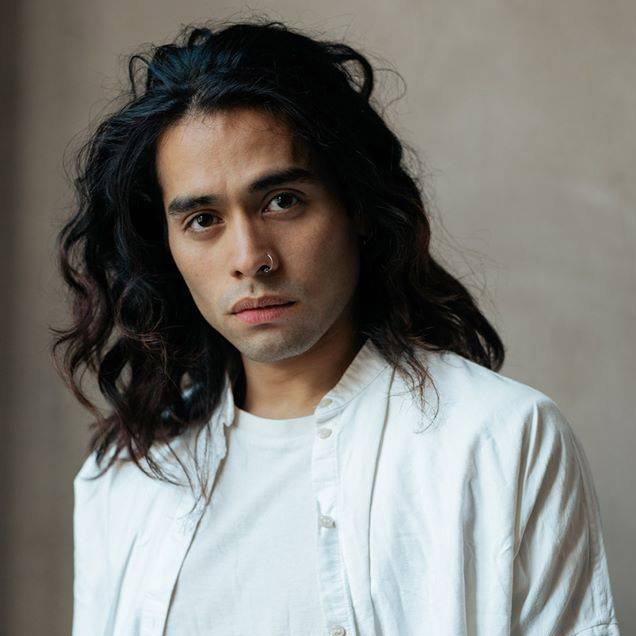 Jens received his classical training in Colorado, USA (2001-2010) and after completed the contemporary education at the prestigious Danish School for Performing Arts (Den Danske Scenekunstskole København). He is part of the Sita Ostheimer Company based in Berlin with whom he has performed international. Since 2013 Jens has been working alongside other established Danish contemporary choreographers at various theatres, and he is the founder and current artistic director for De León Company which was nominated for the prestigious Reumert award in 2019.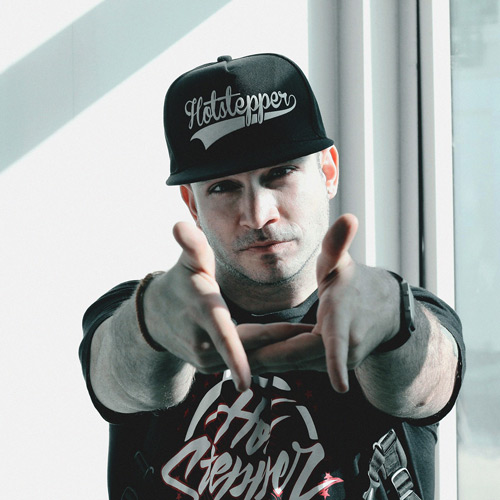 Joel has been dancing since 1989 and is the co-founder of Hotstepper. He is one of DK's hip hop pioneers and has always been working for the hip hop and urban dance scene both local and overseas. Since the 90's he has helped organize local events and in the late 90's started DK's first school with break, locking and popping. He has competed at some of the world's major battles winning the first Scandinavian Battle of The Year, crew finalist at UK B-boying Championships, semifinalist solo bboy at UK B-boy Championships and participated several times at International Battle Of The Year. He has also judged for Asian regional qualifiers of major battles including Battle of the Year, UK B-boy Champs, R16, Hip Hop International and Bboy World Asia. Joel has other credits like the hip hop legends Sugarhill Gang, Melle Mel, Kurtis Blow, Fugees and De La Soul – artists like Justin Timberlake, Punjabi MC and the Prodigy. Joel has danced in over 20 countries with a whole range of experiences from street corner sessions with local crews to commercial shows in state theater.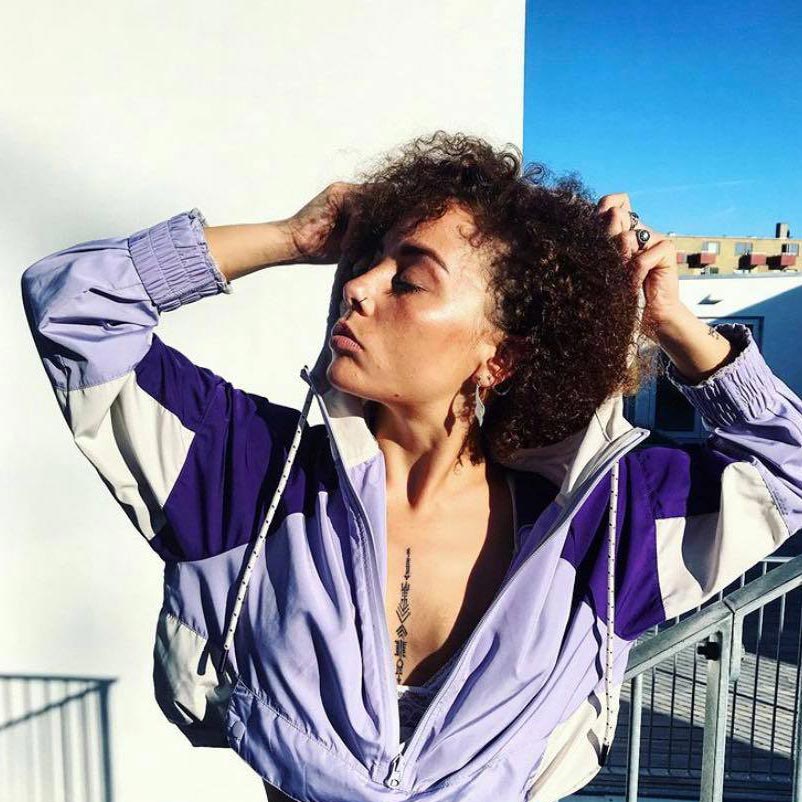 Julie Marie belongs to the best of a new generation of Danish urban dancers and choreographers. She choreographed the winning show at The Choreography Competition in DK, choreographed and danced for Djämes Braun, was co-choreographer of STOR – finalists at DK Got Talent. She toured with Infernal and danced for other top Danish artists like Medina, Nabiha, Mø, KNA Connected, Blak and Jimilian. She has also danced at The Voice ' 16 and X-Factor. Julie Marie has completed the Hotstepper Dance Education, attended other intensive courses, workshops and travelled to London and L.A. in connection with dance training.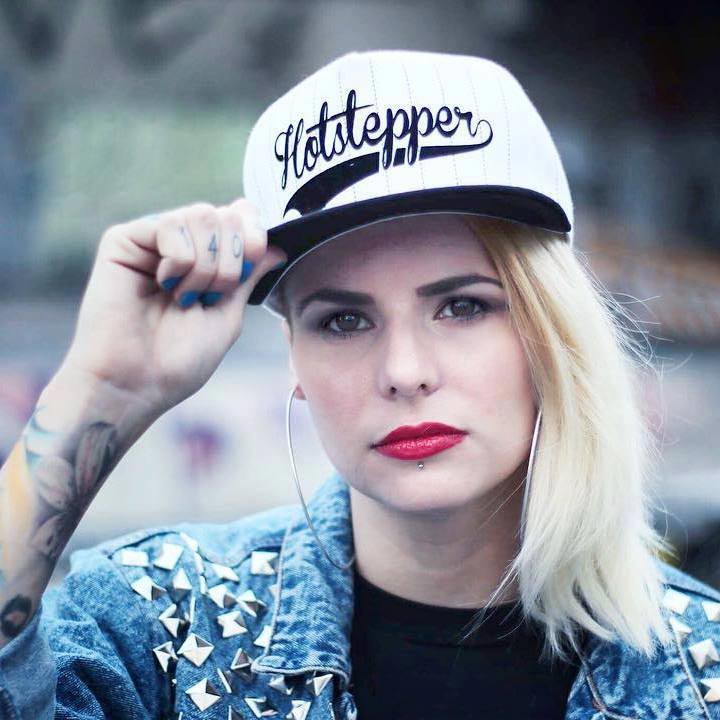 Karen has been dancing since 1998, and is one of the owners of Hotstepper. She works a lot for the hip hop and urban dance scene in Denmark and overseas organizing events, workshops, judging, choreographing shows in DK, Norway and Brazil, as well as volunteering for Instituto Du Gueto in Brazil. Today she has danced in over 20 countries with a whole range of experiences from street cyphers in ghettos to shows in honour of the Danish crown prince.
Karen has danced for hip hop legends like Sugarhill Gang, Melle Mel, Kurtis Blow and artists like Punjabi MC and Kato. She has worked for global brands like Red Bull, Everlast, Bianco Footwear, Amnesty International, Schwartzkopf, FHM and Kia Motors as well as events like DeeJay Awards and Ladyfest. Karen has been active in competitions including winning the first Scandinavian Battle Of The Year, being finalist of Nike Woman Europe and participating in the other major battles like International UK Bboying Championships, Floorwars and Streetstar. She helped start the female Danish hip hop crew – Top Notch, and in 2017 the Brazilian crew Hotstepper B-girls. Karen is also former teacher and on-going mentor for b-boy Zoopreme (Rico Coker) from The Ruggeds – one of the world's top b-boys.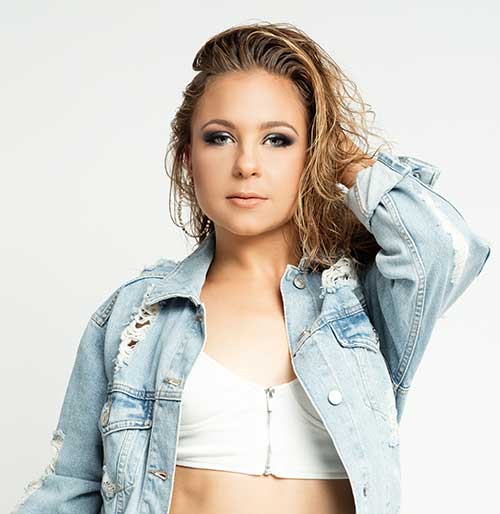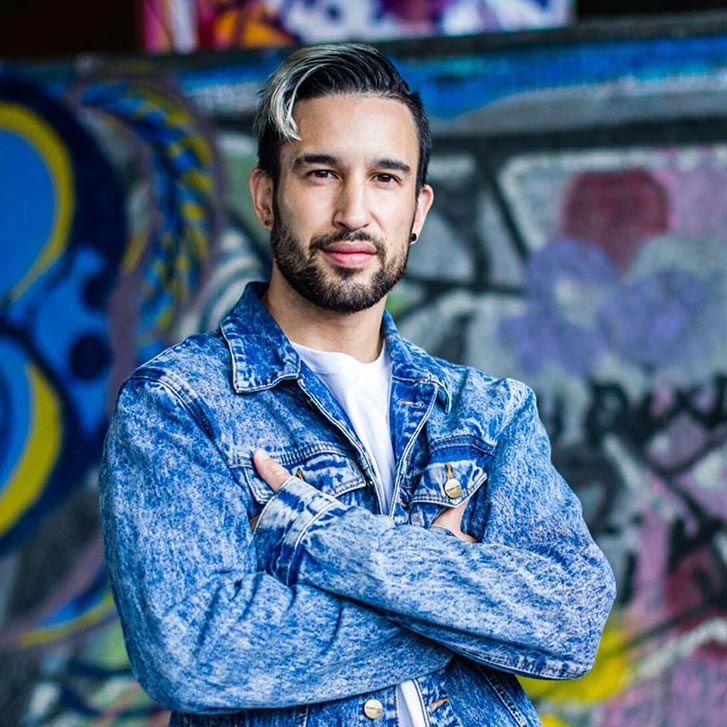 Is a strong, versatile dancer who is active in both the underground and the dance industry and is in Diversity Skankaz Crew. He is in the music video for Mund De Carlo, RH, Christopher, The Joker and Szhirley – danced for the afrobeat artists Tekno and Felicia Baby and performed at events such as Copenhagen Pride, Nordic Break League and Dancehall Madness. With Christopher, he has also, among other things. danced to Guldtuben, TV2 and The Biggest Moments, TV2 Zulu. During his time at the Hotstepper training, Keiran began to be active in battles and is i.a. winner of RUST Battle, semifinalist for Xmas Jam 2017 and 2019 as well as top 8 for CPH CLASH Battle for Culture vol 1.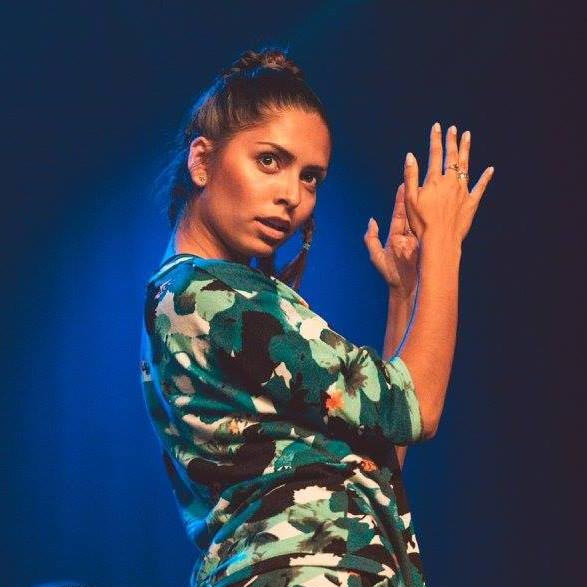 Laura is a versatile dancer. She has been dancing with Hotstepper since 2014 and been part of their team and also completed the Hotstepper dance education. Laura has been a dance teacher at the Oure Summer Camp, and alongside teaching at Hotstepper, she works as a school teacher.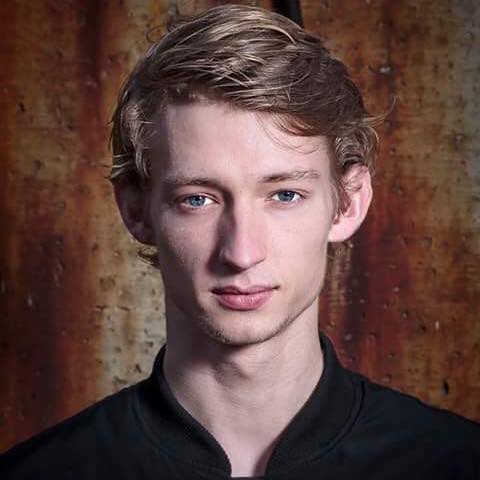 Malthe is "one of DK's finest" with experience ranging from battles to cultural performances in Beijing. He has been mentored by one of DK's hip hop pioneers – Steen Koerner, danced with the world-famous Robot Boys and practiced with leading poppers from USA, Japan and France. He has won and been finalist at Danish battles and top 8 for the prestigious Scandinavian Juste Debout. He has danced for the Danish queen and other royal family on several occasions including state visits abroad. Malthe has danced in many theater shows including the Nutcracker and H.C. Andersen by Steen Koerner and The Last Show by the Robot Boys. He has danced for Per Vers, Outlandish, Mund De Carlo and Eloq. Other credits include commercials for Lego and DSB as well as DR Ramasjang, P3 Gold, Zulu Comedy Galla and others.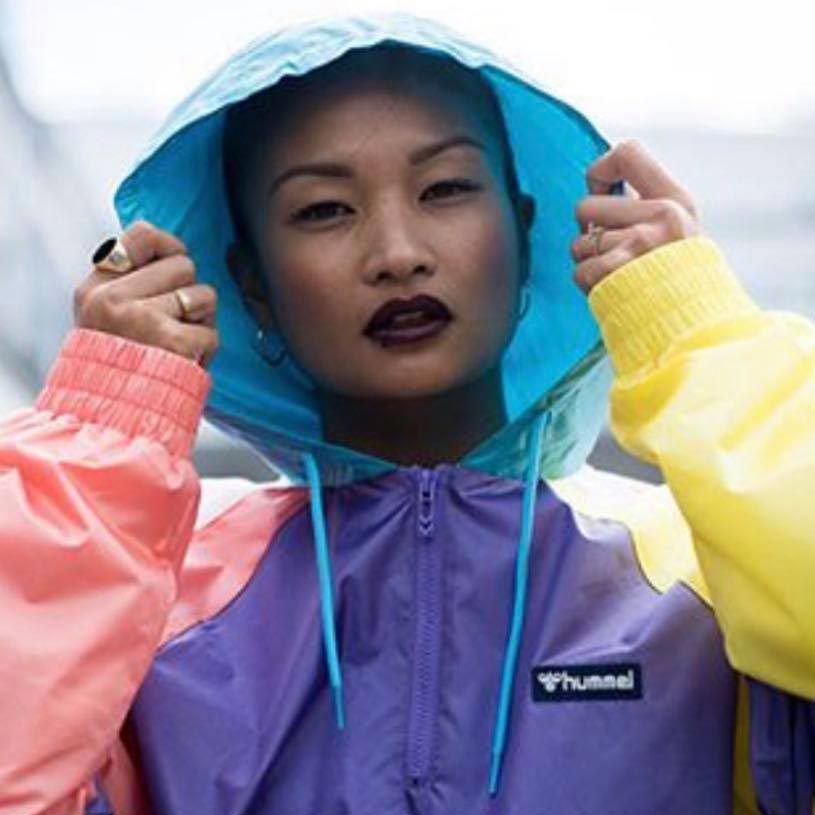 Mary is one of Denmark's finest – an amazing dancer and choreographer with industry experience ranging from music videos and concerts to theatre and TV. Her credits include Marques Housten, Medina, Ida Corr, Christopher, Wafande, Nabiha, Djämes Braun, Wolfgang Gartner, Sys Bjerre, Eurovision, Detours and the Danish royal family. Alongside her personal dance career she also has Merrydance, workshops and camps for the dance community, and has been nominated by Detour Dance Festival for Initiative of the year. She belonged to the first class of the Hotstepper Dance Education graduating in 2010 and always kept learning since – taking workshops and international travel to keep growing as a professional dancer.
Is from Copenhagen but was based in London and currently in L.A. He has risen to the top and become one of the most famous Danish dancers in the international dance industry. He is a world-class choreographer and dancer with so much to share. He has danced for some of the world's biggest events and most famous artists with credits like Super Bowl, Aladdin, J.Lo, Justin Bieber, Fergie, Jason Derulo, Sean Paul, Medina, Eurovison and many more.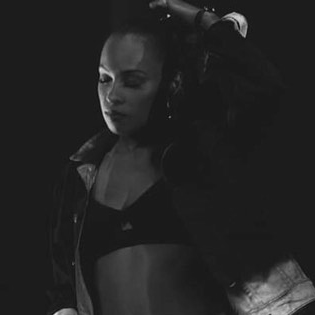 Has 10+ years of experience at the top of the Danish dance industry with work ranging from commercials and concerts to being lead choreographer. She currently also works with artist management. Nafi is thus in a unique position to prepare students for the industry. Her credits include Medina, Burhan G, Christopher, Aura, Djames Braun, Brandon Beal, Lloyd, Jimilian, X-Factor, DMA, Zulu Awards, Zulu Comedy Galla, Melodi Grandprix and more.
Natasha is a versatile dancer with teaching experience in several styles. She has completed 2 dance educations including the Hotstepper Dance Education where she also choreographed the hip hop foundations piece for the graduation show. Natasha has dance experience in DK, France, India and Kenya. She has danced at Danish Music Awards for Aura, NYX Cosmetics, The Royal Ballet, Coca Cola & Sprite commercial and has participated and choreographed for various competitions in Denmark.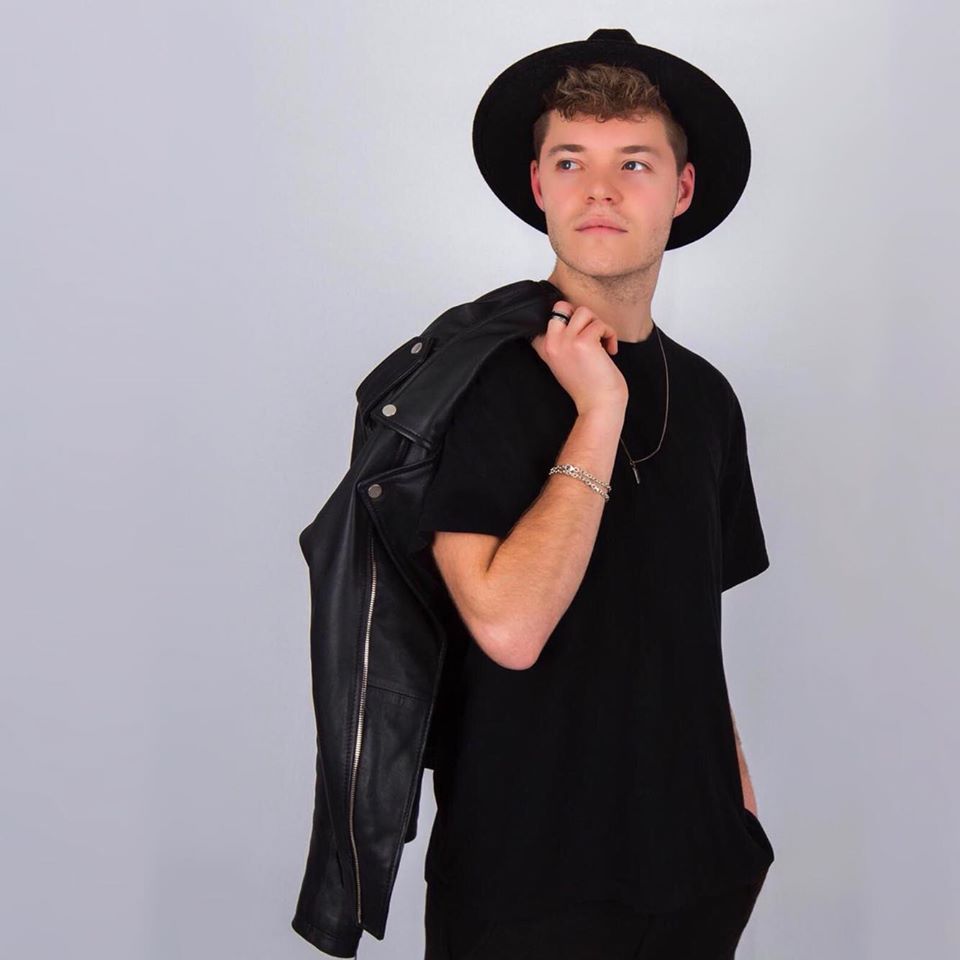 Nicklas is a strong dancer and choreographer with a dance education from Hotstepper. He has a background in competitive dancing within the DDD and IDO leagues where he has been world champion twice, European champion and Danish champion several times. He has been teaching since 2015, at Hotstepper since April 2019 and has students in the IDO and DDD leagues with top positions including Danish champion. In industry Nicklas has credits like Christopher, Barcode Brothers, Leila K, Electrick Village, has danced on TV in TV2 De Største Øjeblikke, Tip Et Hit – DK4, Sygepleje skolen – TV2 Charlie and events/concerts like the Vi Elsker 90'erne Tour, Gay Pride Copenhagen and Club Awards.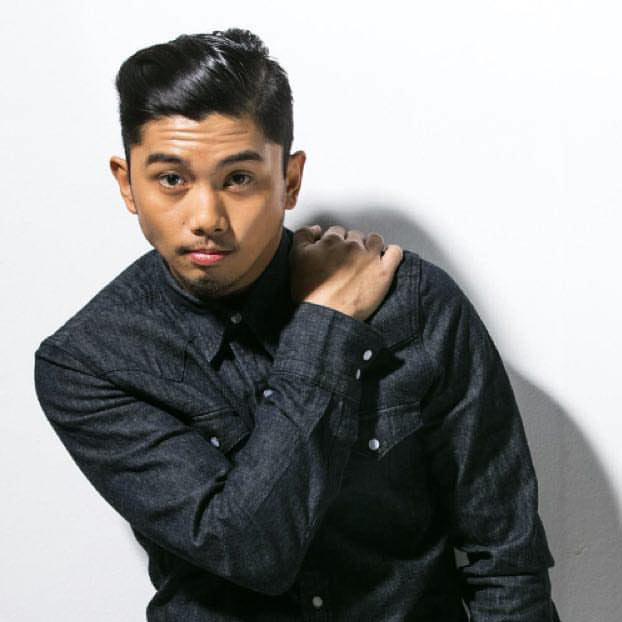 Rai is a popular dancer that started his career at Hotstepper. Since finishing his dance education at Hotstepper he has become a leading industry dancer with international experience ranging from working with top artists and touring to performing in theatre and TV. Rai has a long list of credits including Mohombi, Medina, Xander, Christopher, Skinz, Ciscilia, West Side Story, Eurovision and Swan Lake Reloaded Europe Tour.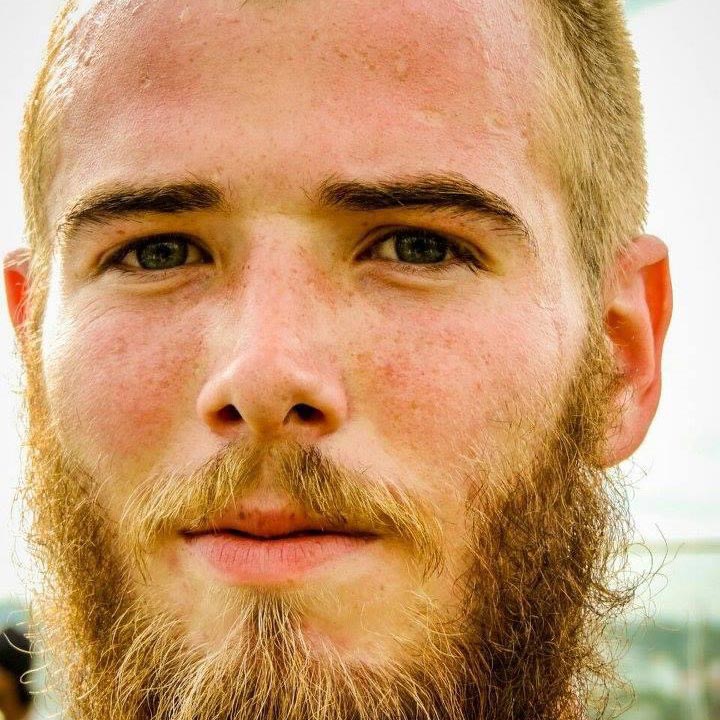 Rasmus has roots in hip hop and underground styles and is a former Hotstepper Dance Education graduate. After he was admitted to and completed a contemporary degree at the prestigious Danish National School of Performing Arts – "Den Danske Scenekunstskole", including overseas study in Brazil and India. Today he has a professional career as a dancer and choreographer in the contemporary scene having worked on several music video-, performance- and theatre productions.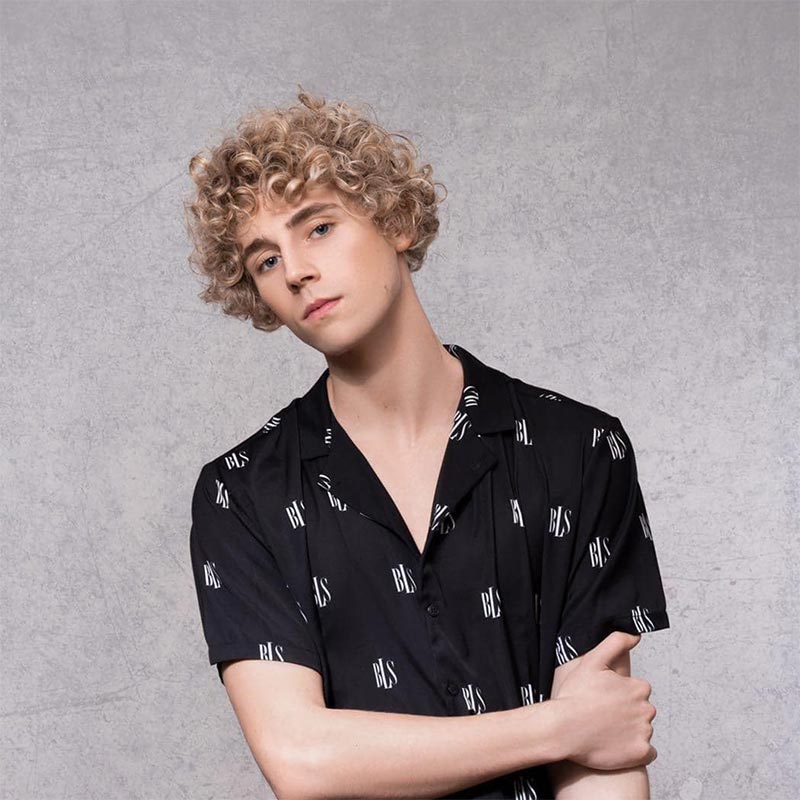 Is a skilled and versatile dancer who has learned from several of the world's best, graduated Hotstepper Dance Education, been in L.A. attending classes and is currently part of an international mentorship program. He started as a teacher at Hotstepper last season and from the start became very popular. Rasmus has credits like Christopher, Sportsmaster, Bogino, Copenhagen Dance festival, TV2 and more.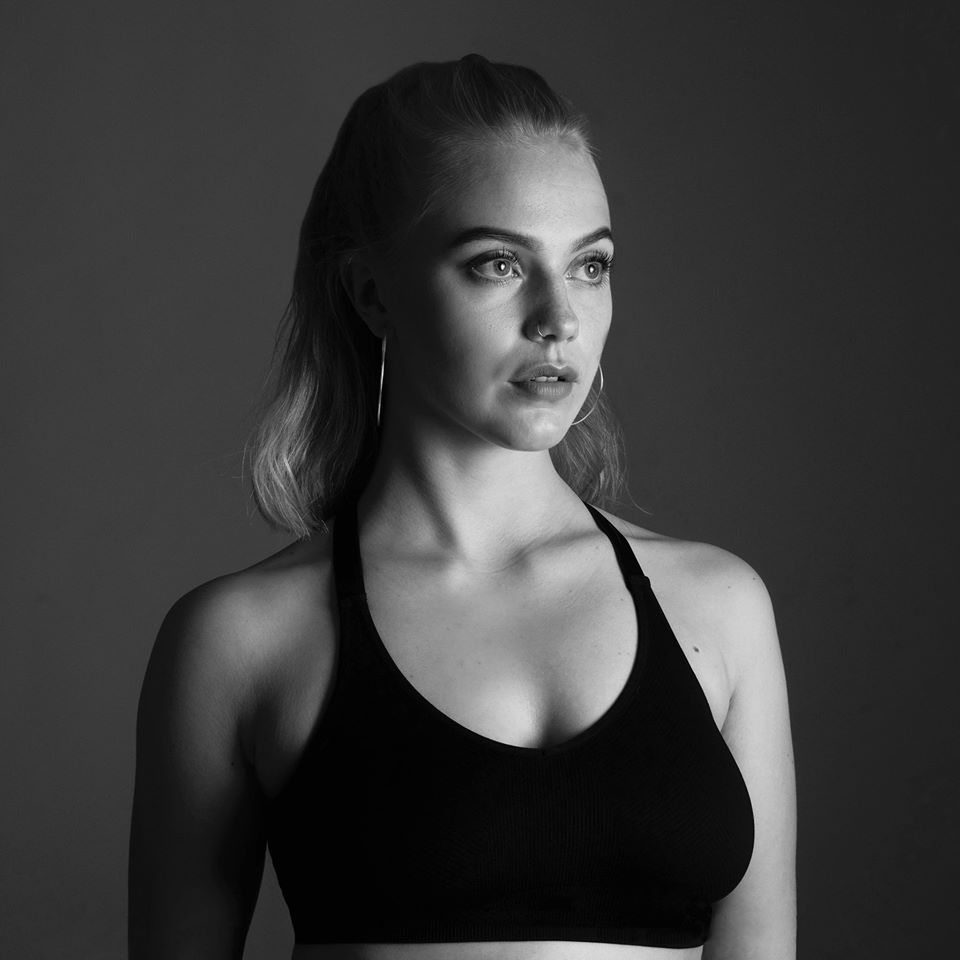 Rebecca is a skilled, passionate and charismatic dancer who has learned from leading Danish and international dancers and graduated the Hotstepper Dance Education. She has a background in gymnastics where she was teaching since 2012, but pursued her love for dance where she started performing since 2013, and later from 2016 teaching commercial and urban styles at several dance studios. Rebecca and has worked with artists and performed at several shows, concerts and charity events. Credits range from Kræftens Bekæmpelse (Fight Against Cancer) to AnneLise concert, Hotskull concerts and various shows with Hotstepper and other studios she previously worked with. She has also been active in the underground scene entering different types of battles such as Clash CPH Cypher, Hotstepper Xmas Jam and That's Hot Vogue Ball.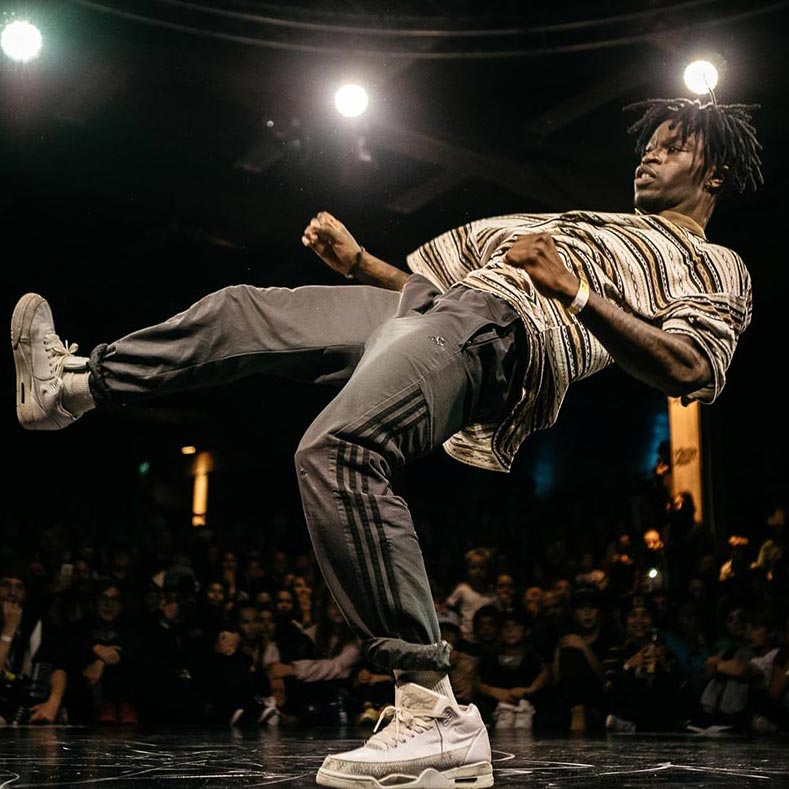 Rico Coker a.k.a. bboy Zoopreme is is the solo world breaking champion having won the Undiputed Masters. He is a Hotstepper Dance Education graduate and member of the world famous Ruggeds crew and Lack of Crowns. He has become an iconic bboy world-wide known for his musicality and strong freestyle skills. Besides being world champion, Rico has won many other battles including R16 Europe and World Bboy Classic. He has done theatre all across Europe including The Nutcracker and H.C. Andersen as well as modelling for H&M athleisure collection. Rico also received the Detours award for most inspiring male urban dancer in DK.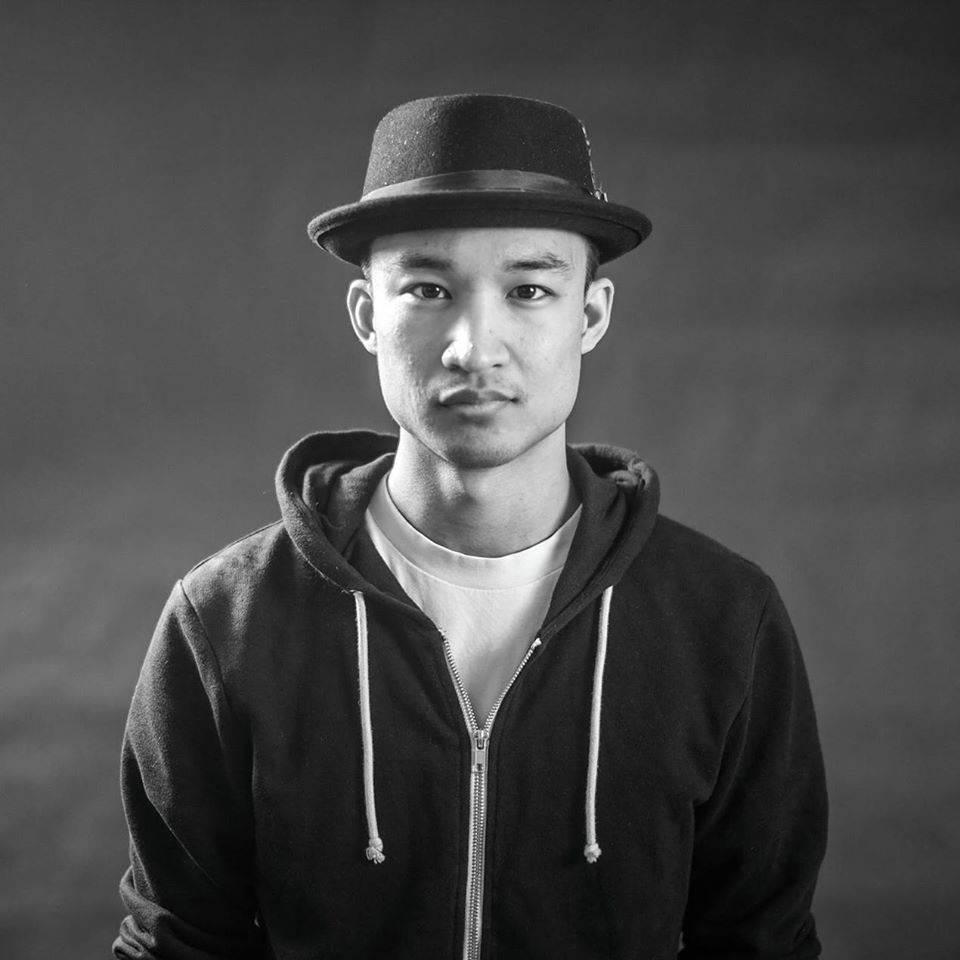 Ryan is a versatile dancer that has taught at Hotstepper since 2015. He belongs to the best of a new generation of Danish urban dancers. He has danced in music videos, TV shows, award shows, festivals and has danced for top Danish artists like Medina, Nabiha, Yepha and Anella. In addition to Hotstepper Dance Education, he has attended many workshops by world-famous dancers.
Sandra is a versatile passionate dancer who has been working in the dance industry since a young age. She has been the choreographer for Anella on her tour, worked for Sony music and Universal, in music videos for ZK, I$waal, J Wild and Ronni Garner. She has performed with artists including at Club Awards for Electrick Village and Alexander Brown, for Hampenberg at We Love the 90´s – Friday Rock in Tvoli, for Sy Lee at the Reality Awards. Sandra has also danced for the Esprit clothing brand the Deres clothing shop company. She danced from a young age and was previously active in the dance competition scene with top ranks and later completed the Hotstepper Dance Education.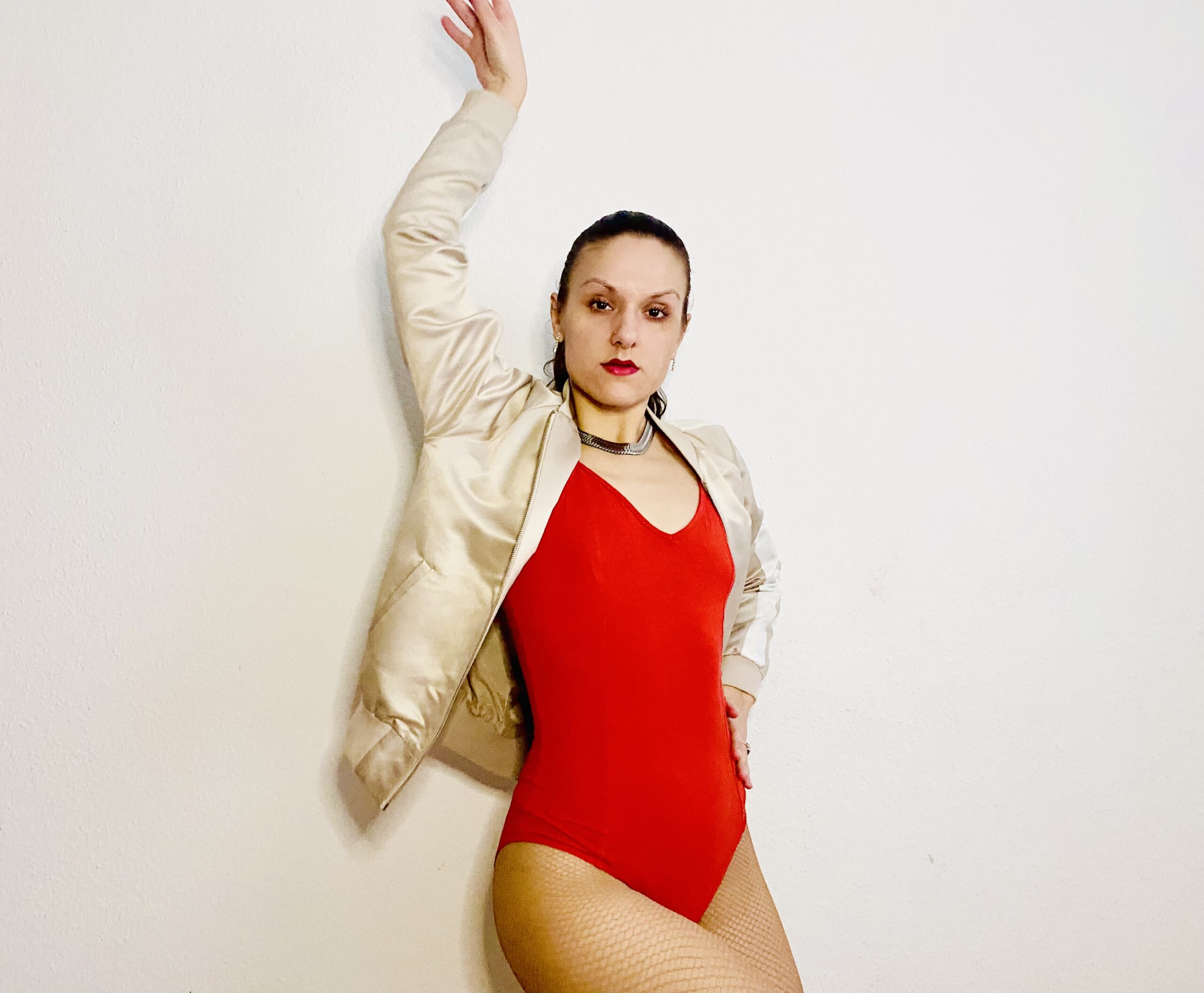 Sebina Mahmutcehajic Evans
Sitthichai has been a teacher at Hotstepper since 2015. His credits include Cicilia, Toy Box, Electrick Village, Club Awards, TV2 Live – Smid Tøjet Gala in Tivoli, JD Sports Grand Opening in Fields, WAUW Models Final Awards, cultural events for Rødovre and Nørrebro Municipality. Sitthichai has completed the Hotstepper Dance Education and subsequently other courses and workshops. He is part of the TREE'O group with 2 other dancers from Hotstepper. Together they perform, choreograph, give workshops and participate at competitions.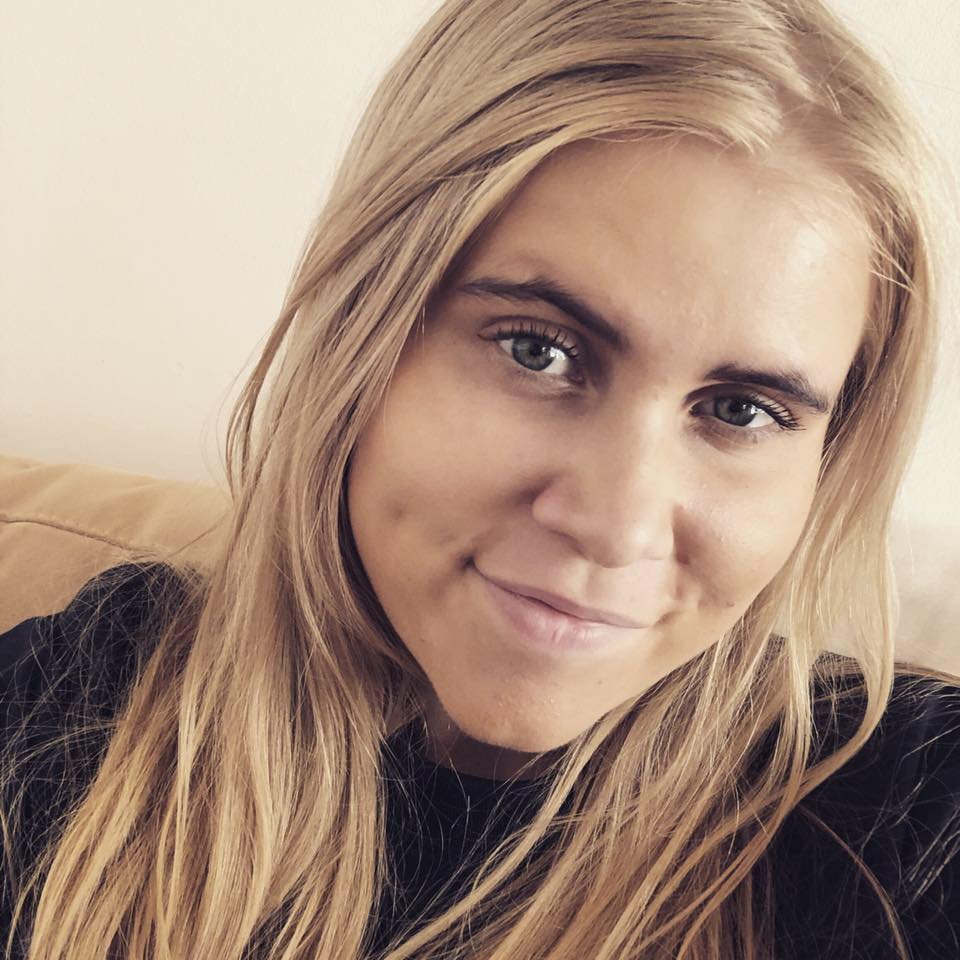 Sofie has been dancing for more than 15 years and is a strong versatile dancer with several years of teaching experience. She has completed the Hotstepper Dance Education and has also taken part in masterclasses, workshops and camps. She has danced in several countries including DK, Belgium and USA. Sofie has danced in music videos, in the TV series Isas Stepz and she has won many competitions such as Hip Hop International DK, Hip Hop Unite DK and the world championships for dance schools.